Resetting the watch is necessary if you get a new smartphone or reset your smartphone to its factory defaults.
The watch resetting process deletes the pairing data with the previous app. It erases its internal memory, where all the raw and processed data is stored but does not revert the watch firmware to its factory or previous version.
To reset the watch:
Swipe sideways until the Factory reset screen appears: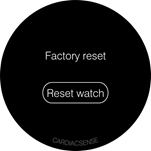 Tap Reset Watch.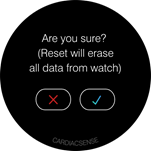 Tap the blue approval sign to reset the watch.
A new watch and app pairing can be performed.