Your account in the CS Mobile app holds the personal information needed to get personalized results from the CS System 3 (Your personal information is treated in a HIPPA- and GDPR-compliant manner).
Any personal or medical information entered at this stage may be changed laterץ
Creating a new account and connecting the watch to the app is a 5-step wizard-guided process comprising:
Signing in

Entering personal information

Entering medical information

Setting preferences and agreeing to terms

Synchronizing the watch with the app
A progress bar is displayed at the bottom of the screen during the process, indicating the steps performed and the current step. The step name is displayed at the top of the screen.

To create an account:
Open the CS Mobile app - The application opens with a splash screen, followed by the language selection screen.
Select your language for the application interface from the dropdown.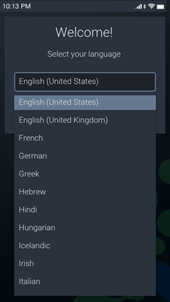 Tap Save. The Login screen appears.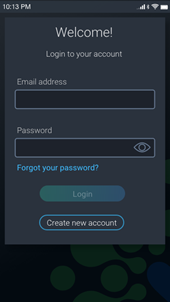 Tap Create new account.